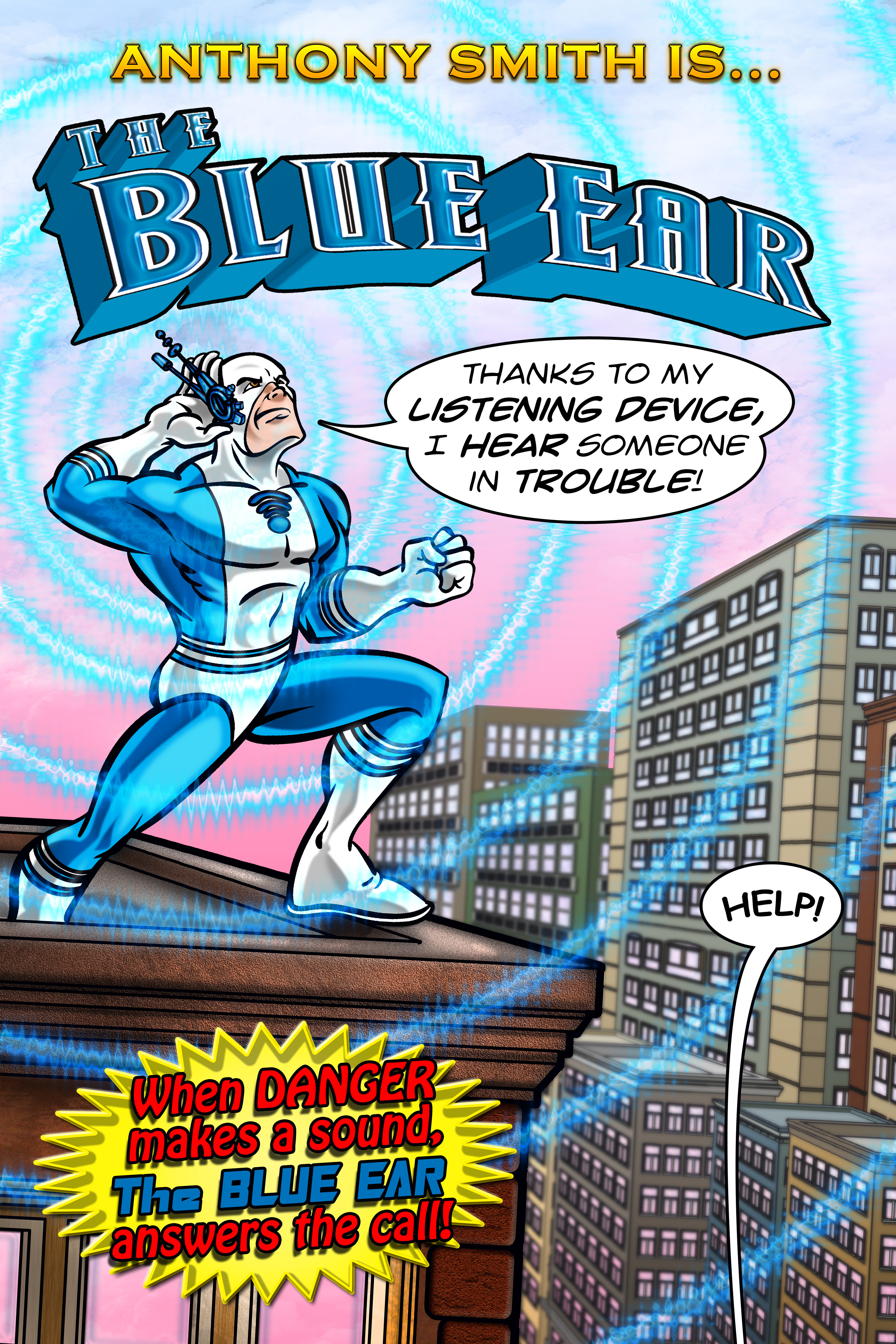 We had the opportunity to talk with Tim Stevens, writer for Marvel.com, about why and how Marvel created our favorite comic book character– Blue Ear. Blue Ear is a Marvel comic book character inspired by Anthony Smith, a Ponto Plus wearer and someone we know as a real-life superhero.
As Tim recalls, Anthony's mother, Christina D'Allesandro, reached out to Marvel through their general email. Despite all of the requests that Marvel gets as one of the world's most prominent entertainment companies with a library of over 8,000 characters, they didn't take her request lightly.
Bill Rosemann, a Marvel editor, took special notice. He artist Manny Mederos and Trades Department Editor Nelson Ribeiro, sent the D'Allesandro family comic book covers featuring their very own versions of honorary Avenger Blue Ear, inspired by Anthony. Then, Mederos did a team up sketch between Blue Ear and Hawkeye, who suffered hearing loss as an Avenger. This started the life and adventures of Blue Ear, who's now an official Marvel character and stars in his own one-shot (for now) comic book.
While Marvel works to support as many people as possible, they'd never done it in exactly this way before. For example, Tim mentioned Marvel's character, Captain Citrus, in support of Florida orange growers and to encourage a healthier diet for children.
"Marvel tries to be as representative of the population as possible," Tim explains. "I think everybody can relate to the characters in some way or another. That's the beauty of them. Spider-Man has spider powers, but he also has to find a job. There are bits and pieces that we can all see in ourselves in some way. That extends to the people who work at Marvel."
Tim, a comic book lover himself, understands how comics can have an impact on young minds when other mediums might not do the trick. "When you find comics, you're usually at your most awkward or hard phase. You're just starting to form relationships with people outside of your immediate family and parents," Tim says. "Super heroes make mistakes and overcome those hurdles. Therefore, you can make great judgments and overcome your problems too."
Comic books are a medium that can often influence you the most as a young person, but they often don't disappear with time. "It's a medium that can follow you through life," Tim suggests. "I interviewed a Neurologist who won a contest to be the spokesperson for Marvel. She's in her 30's and reads them."
Tim expects to see more characters like Blue Ear. "Look at the history of Blue Ear, at first the character was just an image. A year or so later he's featured in a comic book alongside Iron Man!"
The Marvel team works hard to make sure that characters represent real people, even when they're not based on a specific person like Blue Ear and Anthony Smith. "Writer G. Willow Wilson, artist Adrian Alphona, and editor Sana Amanat just created a new character, a teenage Muslim living in New Jersey. While this character isn't inspired by a real individual, she's represents a persona we didn't currently have in comics."
So, what's Tim's favorite comic book character? "Daredevil who is Matt Murdock by day. He lost his sight in an accident. His other senses were enhanced to fight crime and ensure that justice is served."
With that answer, it's no wonder why the team at Marvel took notice of Anthony's superpowers. He just so happens to now have super-human hearing to add to the list of his incredible capabilities.
Read more of Anthony's story here. If you're interested in how the Ponto works for children you can find more information here or contact us.