Priscila Soares creates works of art that tell the stories of real people behind hearing loss. After losing her hearing on both sides when she was young and advocating for her son, she began creating art that empowers and advocates for the hearing loss community.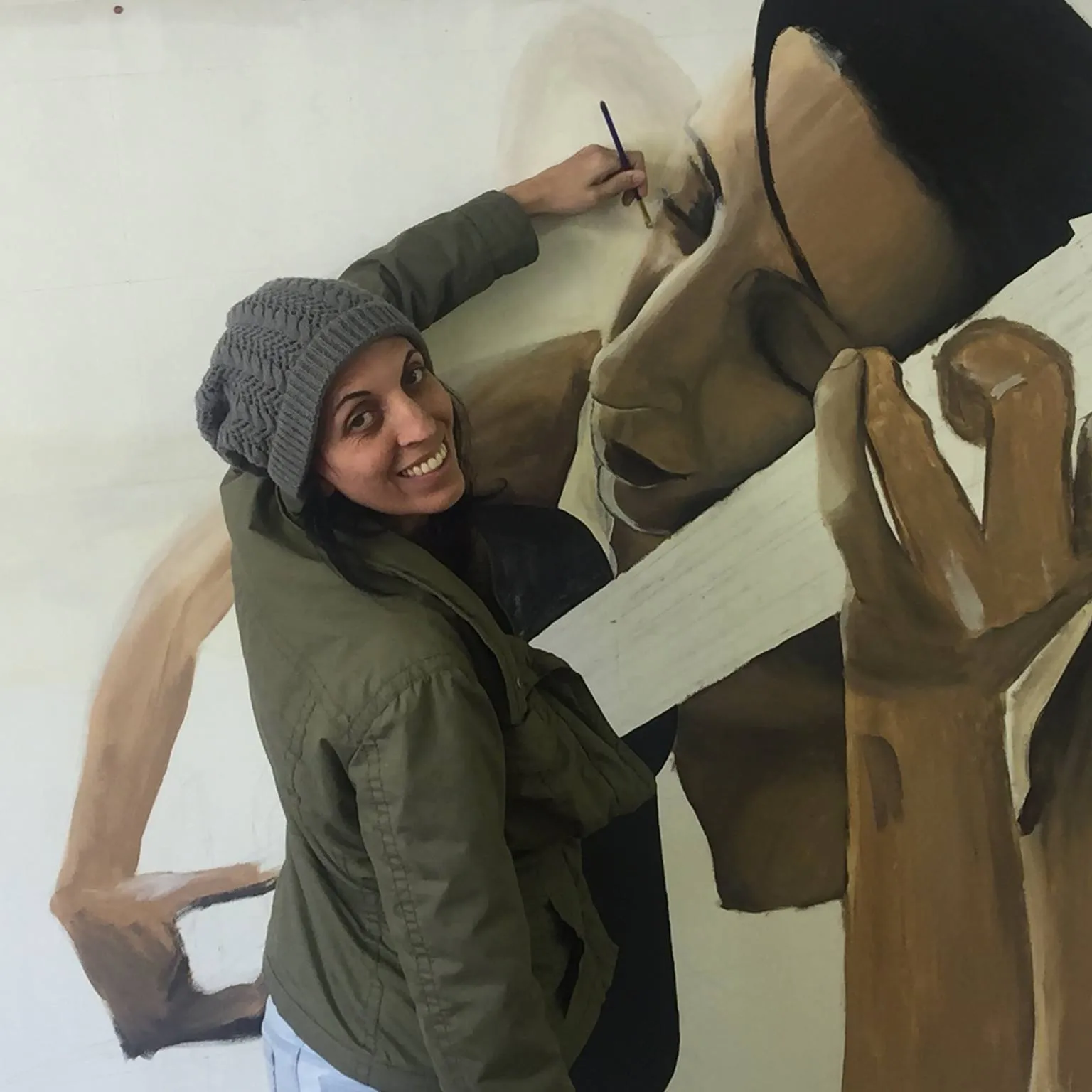 Advocacy through art
Priscila is a hard of hearing artist and mother of three living in California whose hearing loss journey began when she was 17 years old. After undergoing surgery to remove a Cholesteatoma, a destructive skin growth that develops in the middle ear, problems with the surgery rendered her deaf in her right ear. At 24 years old, her left ear showed the same Cholesteatoma condition. She underwent surgery again which was successful, however, they discovered the bones had already been corroded resulting in hearing loss on her left side.
It wasn't until her second son, Jason, was born with a moderate to severe hearing loss that Priscila began meeting other people within the hearing loss community at his preschool for deaf and hard of hearing children. It was within this environment that she met others with Bone Anchored Hearing Systems.
"I wanted to get the best quality of sound I could. It was hard to participate in group conversations. I couldn't keep up with what everyone was saying, and I was trying to put together the missing words in between," she explains. Priscila was bilaterally implanted with the Ponto Bone Anchored Hearing System four years ago.
Hearing loss portrayed through art
As Priscila became more involved in the hearing loss community, she was inspired by the people she encountered and the knowledge she was learning and sharing. This led her to combine her two passions, hearing loss and art. Primarily using acrylic paints, dry pastels, and homemade clay she began to document her own journey – My Luckyears.
"It was two years ago that I decided to take my art seriously and my Ponto was a part of that. As I've felt more confident in my hearing, I've had the courage to pursue things I didn't think were possible."
This year, in recognition of National Microtia Awareness Day, Priscila created an art piece called "Ally is Looking Out for Microtia" – inspired by Ear Community Founder Melissa Tumblin's daughter, Ally.
"The piece 'Ally is Looking out for Microtia' is part of a series of pieces I've been creating based on real children with hearing loss. I first created the piece because I wanted to honor all children with microtia and atresia. I added the butterfly to land on the Ponto, for good luck.
Different from my more personal paintings and sculptures, these sculptures are not about me and my personal journey, rather I just become the catalyst of what connects the child's journey to the rest of the world. I like to portray children because those are the foundational years of a person's life and I want them to feel empowered!" she says.
A new addition to the Oticon Medical U.S. office
Priscila's work revolves around acceptance and helping those with hearing loss overcome hardships which is why we are proud to now have "Ally is Looking Out for Microtia" displayed at our U.S. headquarters.
"My most powerful way of sharing what I have learned for those starting their journey is through art. I hope this piece at the Oticon Medical U.S. office will be a reminder and an inspiration to look out for each other, advocate, and not be afraid to be who you truly are."
Find a clinic
Click the button if you want to learn more about our Ponto bone anchored hearing systems or arrange a trial.