In our previous blog post, we discussed BrainHearing™ — the term we at Oticon Medical use when referring to how the vital elements of hearing (processing and comprehension) occur in the brain. We also reviewed the evidence showing how our Ponto™ system supports sound processing that enables wearers to learn faster[1], remember more[2], and experience less listening effort[3]. In this post we're going to delve deeper into how our bone-anchored hearing system (BAHS) helps wearers, especially children, learn faster and why that is important to their development.
The study and its results summed up
To review, Professor Andrea Pittman studied 17 preteen children, 16 of whom have conductive hearing loss and one with single-sided deafness (SSD) The children wore two Ponto Power at a time: one optimally fitted on a softband and one on an abutment. The children had to learn six new words and Dr. Pittman counted the number of repetitions it took to do so. The children performed the learning task twice (with different words), where only one sound processor was activated at a time in a randomized, single-blind manner (i.e., the subjects didn't know which sound processor was active).
While the kids required approximately 166 trials to learn the words when wearing their Pontos affixed by softbands, they only needed 60 trials when wearing the devices attached to abutments — a 2.5 times increase in learning speed.
Faster learning supports better education and social development
When it comes to education and social development, language acquisition plays a significant role. To learn how to speak, read, and write on pace with their hearing peers, hard-of-hearing children need the best available assistance to improve their hearing ability as early in their lives as possible.
Babies and toddlers initially acquire language by hearing their parents speak. Their linguistic comprehension increases exponentially as they grow and interact more with other adults and peers especially once they start school. During the critical school age years, kids who cannot hear clearly often struggle to increase their vocabulary because it is hard to process and understand spoken language[4].
Consider this: even children with perfect hearing have difficulty paying attention in school. They often are expected to absorb lessons while straining to hear over background chatter, sitting far away from the teacher, and poor classroom acoustics. Now imagine trying to learn despite all this and having a significant hearing loss. It's no surprise hard-of-hearing children[5] often return home from school feeling frustrated, exhausted, and overwhelmed.
Difficulty to learn at the same rate as others can also lead to youngsters falling behind or even in being held back a grade[6]. For kids who may already feel isolated by their hearing loss, this further separation from same-age peers can significantly impede their social development.
With all this in mind, it's no surprise that many of these children develop a negative attitude toward school. Many doubt their own learning capabilities and struggle to fit in socially. But it doesn't have to be that way.
Helping kids with hearing loss succeed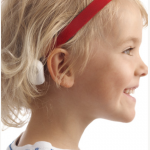 By utilizing a Ponto as early in life as possible, your child can experience the regular stimulation of incoming sound needed to help the brain as much as possible. When worn implanted on an abutment, this powerful BAHS may help keep children learning at a rate closer to that of their natural hearing peers.
Are you ready to try a Ponto for the first time or upgrade to our latest model? Click below to get in touch with an audiologist in your area who can help you choose the best option for you or your child's hearing needs.
Find a clinic
Click the button if you want to learn more about our Ponto bone anchored hearing systems or arrange a trial.
[1] Pittman, A. L. (2019) Bone conduction amplification in children: Stimulation via a percutaneous abutment vs. a transcutaneous softband. Ear Hear.
[2] Lunner, T., Rudner, M., Rosenbom, T., Ågren, J., and Ng, E.H.N. (2016) Using Speech Recall in Hearing Aid Fitting and Outcome Evaluation Under Ecological Test Conditions. Ear Hear 37 Suppl 1: 145S-154S.
[3] Bianchi, F., Wendt, D., Wassard, C., Maas, P., Lunner, T., Rosenbom, T., and Holmberg, M. (2019) Benefit of higher maximum force output on listening effort in bone-anchored hearing system users: a pupillometry study. Ear Hear.
[4] Committee on the Evaluation of the Supplemental Security Income (SSI) Disability Program for Children with Speech Disorders and Language Disorders; Board on the Health of Select Populations; Board on Children, Youth, and Families; Institute of Medicine; Division of Behavioral and Social Sciences and Education; National Academies of Sciences, Engineering, and Medicine; Rosenbaum S, Simon P, editors. Speech and Language Disorders in Children: Implications for the Social Security Administration's Supplemental Security Income Program. Washington (DC): National Academies Press (US); 2016 Apr 6. 2, Childhood Speech and Language Disorders in the General U.S. Population. Available from: https://www.ncbi.nlm.nih.gov/books/NBK356270/
[5] Colquitt JL, Jones J, Harris P, et al. Bone-Anchored Hearing Aids (BAHAs) for People who are Bilaterally Deaf: A Systematic Review and Economic Evaluation. Southampton (UK): NIHR Journals Library; 2011 Jul. (Health Technology Assessment, No. 15.26.) 1, Aim and background. Available from: https://www.ncbi.nlm.nih.gov/books/NBK99649/
[6] Cooke, Gary, & Stammer, John. (1985). Grade retention and social promotion. CHILDHOOD EDUCATION, 61 (4), 302-308. EJ 315 804