For many of us, the most challenging part of the CDC's latest recommendation that everyone should wear a face mask* when going out during the Covid-19 epidemic is finding (or making) masks. However, for people with microtia or anotia, this is compounded by the difficulty of wearing a traditional mask with small or no external ear(s). Fortunately, there are ways around the challenge presented by traditional masks with loops for around the ears.
Making your own face masks for Covid-19 use
As mentioned above, one of the biggest challenges for everyone is figuring out how to follow the latest guidelines on covering your mouth and nose when having to go out for groceries or other necessities during the coronavirus outbreak. The Centers for Disease Control (CDC) have posted helpful DIY guidelines for making and using cloth face coverings on their website. These can be further adapted to fit people without ears using the suggestions below.
Add strings to face masks
If you are making your own face mask, instead of using traditional ear loops you can attach tie-able strings at the top and on the bottom corners. These can be comfortably tied around the head to fit without requiring ears or getting in the way of your bone anchored hearing device.
Attach buttons to a headband
If you happen to have a traditional medical mask — especially if you're a healthcare worker — then altering a scarf, bandanna, or other adaptable headband to add buttons on either side of your head is a good workaround. You can then put the loops around the buttons in place of ears.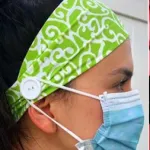 Use a paperclip
This is a clever and simple trick: take a paperclip, slide it around each ear loop on the mask to connect them in back, then put the mask on over your head and adjust comfortably.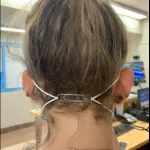 Do you have any other DIY suggestions for making face masks wearable without ears? Please share in the comments!
We'd like to thank our friend Melissa Tumblin and Ear Community for allowing us to share these helpful tips and photo examples.
*Masks featured in this post are not N95-rated or surgical grade.