We are pleased to be able to offer options for people with hearing loss to benefit from our Ponto™ processors at all ages and with differing health conditions. Our processor can be worn on a hard headband, attached to a hat, or on a softband – the latter of which is particular popular with our juvenile wearers. However, the Ponto was developed as part of a complete bone anchored hearing system, meaning wearers will experience peak performance when it is attached via an abutment directly to their skull. And while children under five aren't candidates for the implant surgery due to their developing skulls, we encourage all adults and parents of kids over five whose physical conditions don't preclude the surgery to seriously consider implantation. Here's why.
The MIPS procedure
The surgical method Oticon Medical uses is called MIPS (minimally invasive Ponto surgery). This procedure involves having a small titanium implant carefully inserted into the bone behind your ear. The operation can be performed under local anesthetic, and in most cases, it takes no more than a day or two to recover. Many older children and most adults can undergo MIPS successfully, unless they have a condition that affects skin or bone thickness. A consultation with a surgeon can help you determine whether you or your child is a qualified candidate.
It's typical for people to have concerns about surgery of any kind, including the comparatively minor MIPS procedure. For example, you might have concerns about your post-surgical appearance. The good news is that MIPS was designed to create the smallest incision possible. The surgeon makes a circular incision that matches the abutment exactly using instruments specifically designed for the procedure. This leaves the skin around the incision intact, with no skin tissue or hair follicles removed from around the abutment – hence no bald spots. MIPS also removes the need for suturing, which eliminates scarring and fosters quicker healing.
Another concern might be the surgery itself – especially the use of general anesthesia, which always carries some level of risk. MIPS only takes about 15 minutes and is normally carried out under local anesthetic. And as for recovery, since the process preserves soft tissue the blood supply, micro-circulation, and nerves are left as intact as possible, thereby shortening the healing period. Most patients can return to work or school within a couple of days.
Why choose bone anchored surgery over softband?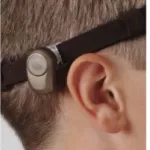 Affixing the Ponto processor to a softband provides young children with early access to speech and sounds so they can explore and interact with the hearing world with greater ease. It also gives them a great foundation for speech development. It is a suitable solution for children with conductive or mixed hearing loss, or single-sided deafness. It can also be used by adults with these conditions who cannot benefit from conventional hearing aids or who have temporary ear problems, such as blockages or infections.
Because the adjustable softband is simply worn around the head, some wearers prefer it to having to go through any form of surgery. And it certainly works — when you attach the Ponto sound processor, it sends sound waves through the bone to the inner ear, giving the wearer access to our renowned, high quality Ponto sound. Wearing a Ponto on a softband is a valuable method of hearing rehabilitation for children too young for implantation and for adults receiving a preoperative assessment.
However, studies confirm that implantation of a bone anchored hearing device – also known as a percutaneous solution – provides the ultimate hearing improvement over wearing a processor on a softband. Hearing sensitivity through the skin with a softband, as compared to a skin-penetrating abutment, provides between eight and 20 decibels (dB) reduction in the frequency range from one to four kHz. In plain English, wearers hear better when their processor is worn on an abutment than when it is worn on a softband.
One concern is that when vibrations have to pass through the skin without an abutment, the static pressure between the softband and the skin must be high to provide the best transmission possible. The ideal requirement often causes discomfort and can result in problems in the skin and subcutaneous tissues between the processor and the bone, especially if used long-term. It can also trigger tension headaches.
Other challenges include attenuation and feedback. Attenuation refers to a reduction in sound amplification, which can affect speech understanding. Feedback, or the return of a portion of an outbound signal to the same device creating a distorted effect, occurs when sound radiates from the processor back to the microphone.
Other complaints about softbands include cosmetic appeal, and slippage that causes the processor to move out of its ideal placement. If these and the aforementioned discomforts persist, the user is less likely to wear their processor all day long, reducing the efficacy of the device. After all, you can only fully benefit from the better hearing provided by the processor if it is worn steadily – and this is particularly important for children who are still acquiring language.
In our next post on this subject, we'll share two user experiences about upgrading from wearing processors on softbands to having MIPS and hearing with an implant.