"Where words fail, music speaks." —  Hans Christian Anderson
 Think of a favorite memory that involves music.
Perhaps it was when you attended an outdoor concert on a beautiful summer day with family and friends. Or that moment when you blasted your favorite song on the car radio with the windows down. What is it about hearing a certain song that can transport you back to a happy day in your life? Undoubtedly, music touches our hearts and minds in a way that few things can.
If you are someone with a hearing loss, music may sound different to you than it used to. Certain notes might sound flat. The lyrics of a song might be more difficult to identify. You might long to hear certain instruments in the orchestra again. Losing a connection to music is another hidden challenge presented by hearing loss presents.
In today's world, hearing device users are fortunate to have access to technology that can make listening to music more enjoyable. If you use a Ponto™ device, let's look at a few ways that your hearing care professional can optimize your processor to help make music sound better to you.
Ask your audiologist to make you a music program
Music is very different than speech. Music contains volume and pitch changes that don't occur in conversational speech. A challenge for bone anchored hearing aid users is that, while their devices are designed to emphasize speech, those same pitch and volume enhancements needed to understand speech can interfere with music enjoyment.
A music program is designed to allow the hearing device to accept a wider range of frequencies and lessen noise reduction. In the Ponto 5 Mini, your clinician has access to a preset music program with settings that are guided by the latest research into listening to music through hearing devices. You can access your music program using the Oticon ON™ app paired to your smartphone by selecting it when listening to music. If you are a Ponto 3 SuperPower patient, your audiologist can create a music program that can be accessed with your Oticon Medical Streamer. If you haven't tested a music program yet, ask your audiologist to create one for you at your next visit and listen to the difference.
Use your wireless accessories to stream music directly to your Ponto family device
Ponto hearing device users are fortunate to have access to a wealth of accessories that can help them enjoy music. Let's talk about how you might use these wireless accessories.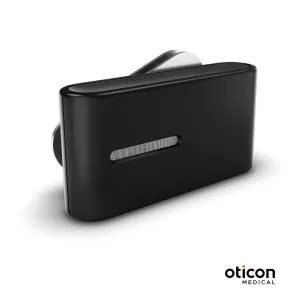 The ConnectClip
The ConnectClip™ is a multi-function accessory that is compatible with our Ponto 4 and Ponto 5 Mini devices. The ConnectClip is easily paired to your Ponto and a smartphone. You can use it to stream music from your favorite Spotify™ or Apple® Music playlist directly to your device. The music volume can be adjusted right on the ConnectClip for a hands-free listening experience.
The EduMic
The EduMic™ is widely known as a wireless accessory with educational benefits for pediatric patients. It is a one-to-many device that is capable of so much, including accepting a streaming signal from an FM transmitter in educational settings. But did you know that you can also use EduMic in "jack mode" to listen to music? If you want to enjoy music from a laptop or a wireless speaker that has a jack cable plug-in, you can plug in your EduMic and stream the audio directly to a Ponto 4 or Ponto 5 Mini. The EduMic is shipped with the 3.5 mm jack cable required, so no need to shop for anything extra. As an added bonus, the EduMic is currently offered as one of the free accessory options for patients placing a new Ponto 5 Mini order.
The Oticon Medical Streamer
For our Ponto 3 SuperPower patients, you can use your connected Oticon Medical Streamer to link to a music system, either wirelessly using Bluetooth®, or a 3.5 mm jack cable if you prefer to plug in. Worn around the patient's neck, the Oticon Medical Streamer also offers patients an entirely hands-free music listening experience in either mode.
Take note of assistive devices available to hearing device users
Many theaters and concert halls have a telecoil loop system that allows audio to be transmitted to a hearing device using the telecoil.  A loop system uses electromagnetic energy to transmit the audio from the venue to its patrons with hearing loss. Our Ponto 3 SuperPower patients can access their telecoil with the use of the Oticon Medical Streamer. The telecoil in the streamer picks up the electromagnetic energy that is transmitted from the loop system in the room, allowing the user to access the audio from the stage directly in their device. Simply pressing the "AUX" button on the lower right side of the streamer for two seconds will activate the telecoil feature.  If you are a Ponto 5 Mini patient using the EduMic, you can use its telecoil mode to stream the telecoil signal from a theater or music venue. The next time you are seeing a concert or a play in a live theater, be sure to ask whether it is "looped".
Enjoy music with your Ponto bone anchored hearing system
Thanks to the advanced technology in Oticon Medical devices and wireless accessories, bone anchored hearing device users have more options than ever when it comes to music enjoyment. Be sure to visit your audiologist to learn more about how you can take advantage of the options available to you.
About the author
Courtney Smith, M.A., CCC/A, is the Clinical Trainer for Oticon Medical. She in in her 19th year of practicing audiology. She has practiced in private practice and university hospital settings in Las Vegas, NV. She completed her training at the University of Iowa in 2003.