NICU nurse Christina shares her experience recovering from acoustic neuroma and finding the right treatment for her resulting single-sided deafness.
After my first medical mission trip to Guatemala in 2020, I came back to the states with a global pandemic starting and a constellation of symptoms that seemed to be getting worse that my doctor could not explain. It would not be until January of 2021 that I would learn a small brain tumor was responsible for my debilitating symptoms.
I was terrified and worried for my family. I am a single mom of two small children. My kids depend on me, and I am the sole income for my household. My job as a neonatal intensive care unit (NICU) nurse requires full use of all my senses and this tumor was going to take my hearing, balance, and possibly more. I was worried about what my life would look like, not to mention the possibility of losing my life to the tumor itself.
In May of 2021, I flew from Atlanta, Georgia to California to have surgery with the specialists at University of California San Diego to remove the vestibular schwannoma (acoustic neuroma) that was growing on my cranial nerve. My recovery was hard, and unfortunately, they were not able to save my hearing. I was now completely deaf in one ear. I was heartbroken. I couldn't hear in loud places. I had a strange feeling that there was just a huge black hole next to my deaf side. The doctors call it a head shadow, but it was more like a black hole to me.
Challenges of finding the right single-sided deafness treatment
Once I had physically recovered from surgery, my doctor back home wanted me to get a hearing device to use, and get used to, before returning to my work as a nurse. I initially got a loaner BiCROS hearing aid to try out from the hospital. Slowly, the black hole disappeared, but I was still concerned. Having to don so much gear to protect us and our patients from the Covid-19 virus, I worried my hearing aids would get in the way. I have to take masks on and off and put on sterile attire to enter surgical suites and found I would often get my hearing aids caught in my hair or in the straps of masks. I also had to remove one to be able to use my stethoscope. I knew there had to be something better.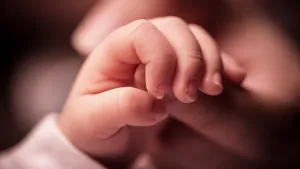 My work in the NICU involves caring for the most vulnerable of all patients. Some weigh only 600g! A mistake can be devastating. I need to be able to hear the orders from providers, the heartbeat and lung sounds of my patients, and communicate with parents efficiently.
One of the first things we do when we get to work is receive a report from another nurse, which can be very stressful because of all the normal noises around us and the sound of everyone else giving reports at the same time. I also attend high-risk deliveries and codes, which are highly stressful and do not allow for any mistakes to be made. Communication needs to be clear and precise. Meanwhile, I still had difficulty hearing at work with my BiCROS—the amount of noise from alarms, vents, oxygen tanks, etc. would get scrambled into what I was trying to hear.
I had heard about bone anchored devices but was hesitant to go into surgery again, so I worked with the BiCROS system for three months. After doing some research, I decided the bone anchored hearing system (BAHS) would be a better choice for me and had heard many good things about the new Oticon Medical Ponto™ device, the Ponto 5 Mini. It was the newest device available, and its small size led me to believe it would work better for my needs. I also really liked the idea of putting it on in the morning and just not having to think about it for the rest of the day.
I scheduled my abutment placement. I did have concerns about my sensitive skin and having a reaction, but the Oticon Medical representatives were wonderful and answered all my questions and concerns. The placement itself was super easy, and I recovered really quickly. I even ran my first half-marathon two weeks after the placement of my abutment!
A new world of sound with Ponto 5 Mini
Getting my processor was amazing. I could hear so much more and clearer, but sound was strange at first—it was tinny, and difficult to sort out sounds. I thought maybe I had made a mistake and I got really down. Sometimes I would just turn my device off, but I had read somewhere that you need to constantly wear your device so that your brain can integrate the new sounds. So I used the theory of practice makes perfect and just continued to provide opportunities for my brain to sort out the sounds I was hearing.
I like the fact that with Bluetooth® compatibility, I can just connect to my devices and not have to juggle with a hearing aid and earbuds. They also are making stethoscopes that can connect directly via Bluetooth to my Ponto. I actually am able to listen better to my patients than my hearing counterparts at times.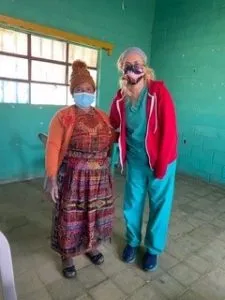 I have to put surgical caps on to enter surgical suites, and the small size helps make this process a lot easier. I use the OpenSound Navigator™ feature a lot in the loud NICU especially when I am working the night shift. When I get tired, it is harder to sort out sounds, and this really helps during those times.
My hair nicely covers the processor so no one can see it. It's not that I necessarily want to hide it, I just don't want to give anyone any reason to question my abilities. On the other hand, if I want to share, I am able to, and sometimes showing a patient that you have a disability like they do and showing it as a super-power or special ability gives them an opportunity to see themselves in a different light.
I was really surprised how little I have to worry about feedback thanks to the OpenSound Optimizer.™ I was told that it would be a big issue, especially while wearing hats, but as long as the hat or surgical cap is loose-fitting, I really don't have any problems.
It took almost two months, but I remember one day actually forgetting that I had my Ponto 5 Mini on and that I was deaf on one side. Something had clicked. Earlier, I had told the organizer of the medical mission trips that I would not be able to go this year because I was not sure I could help anyone due to my hearing loss. After that day though, I called him up and said, "Sign me up, I'm ready." I have now completed my second medical mission trip to Guatemala personally helping hundreds of patients—none of whom had a clue that I once struggled with hearing.
I am the cool bionic mom to my kids! They are 10 and 12 and like to talk to their mom at the same time especially when they are excited about something. My Ponto 5 Mini helps me sort out their voices and hear what they are saying even when they talk over each other.
I want someone deciding whether to get a Ponto bone anchored hearing system to know that it takes time to adjust to your device. It's not a magic button. Like anything, it takes practice and patience. The brain is amazing, and we are fortunate to have this technology. Just don't give up!
#
This video was taken eight months post-craniotomy and two months post-BAHS implantation. My 10-year-old wanted to rock climb for his birthday, so of course I had to show them all up. I don't wear the safety connection device, mostly because I don't want to draw attention to myself. In the beginning of the video you can see where the rope hit the Ponto and it fell (not sure how high that is) a long, long way down. You can hear my kid's Dad saying, "Something fell off" and my mom saying, "It's her processor."
 Thank God there were pads underneath! I got down and clipped my processor back on and it works fine. Also, I'm an old lady so don't judge my climbing skills (hey, I went higher than all the 10-year-olds!)
Ready to try a Ponto 5 Mini? Find a clinic near you!