As the summer months arrive, so does the hot, humid weather. You may want to consider how this can affect the function of your Ponto™ processor.
Your processor is vulnerable to environmental changes like increased humidity in the air or condensation caused by moving between air-conditioned interiors and extreme heat outside.  While the Ponto 5 family of processors have an IP rating of 57 when the battery is in the processor, it is still important to consider ways to minimize exposure or combat the effects of moisture.
Warning signs of moisture issues include the following:
Your processor's sounds are distorted or staticky
Your processor works intermittently or cuts in and out
You see corrosion in the battery compartment or around the battery
You feel that your batteries are not lasting as long as they normally do
 Can you help prevent moisture issues?
You can start by developing good processor cleaning and care habits. If the processor comes into contact with sweat, rain, or moisture, wipe it with a clean, dry cloth. The Ponto Care™ app, available for iPhone® and Android™ users, provides helpful information on the proper care and maintenance of your device. For example, avoid storing your processor in the bathroom where it could be affected by humidity from showers or baths.
How can I help reduce moisture that may be in my Ponto?
Drying systems are an easy and effective way to reduce moisture that may accumulate in your processor due to normal usage, rain, or living in areas with high humidity.

There are two main types of systems. The first is considered passive; this uses desiccant, much like the packs that you find in vitamin bottles. These are typically called, "jar dryers" and contain the desiccant beads that can be "recharged" by putting them in the oven or microwave. You simply put the processor in the jar without a battery and close the lid. Jar dryers are great for travel, camping or when you do not want to use electricity.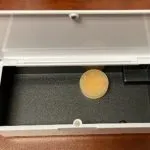 The second type is an active dehumidifier. This type also has a desiccant pack or puck but adds in a fan to circulate air. These "box dryer" systems can also have a UV-C light that acts as a germicide. Box dryers more aggressively reduce moisture from your Ponto processor. Again, you can put your processor in the dryer without a battery and turn the dryer on. The box dryer will typically run through a cycle that lasts between 6-8 hours. You can feel comfortable using these types of drying systems every night and as your storage case overnight.
Use your bone anchored hearing system all summer long
Wherever your adventures take you this summer, make sure your Ponto processor keeps up with you by following some simple care and maintenance steps. With a little care and common sense, you can continue enjoying the sounds you love regardless of the season.
About the author
Nicole Maxam, AuD CCC-A is part of the Auditory Technical Services team at Oticon Medical. She has been an audiologist for over 17 years and has experience with providing patients with hearing aids and implantable solutions.