Sarah Sabal is a longtime Oticon Medical hearing advocate and currently a summer intern with Oticon Medical. In this blog, she shares her experiences growing up with hearing loss and how she has benefited from wearing bilateral Ponto devices, particularly when it comes to her education.
#
Hello everyone! My name is Sarah Sabal, and I am a college student attending Rochester Institute of Technology, double-majoring in Marketing and Chinese Language and Culture (Mandarin) with a minor in International Business. I will be graduating in the spring of 2024.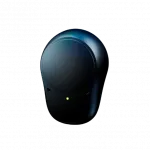 Having been born deaf due to microtia and atresia and after spending the first seven years of my life in an orphanage in China, I am no stranger to adversity. I learned early on how to overcome challenges and never let my disability define me. Instead, it serves as a reminder that I need to work extra hard turning every challenge into an opportunity to succeed. I am a longtime Oticon Medical Ponto™ user and an advocate who wears a Ponto 5 Mini, which has changed my life. It has helped me to experience the full soundscape, while learning Chinese, and communicate more easily with my co-workers, teachers, and friends, and better advocate for myself and other people with hearing loss.
Motivated despite challenges from an early age
Back in the orphanage in China, I had no family, education, or hope. When a family in the United States chose to adopt me, I knew my life was about to change and that I would have to work extra hard to make up for the lost time.
As an adoptee from China, I always wanted to learn the Chinese language. When I came to America at seven, I was deaf and could speak only a small amount of the Sichuan dialect. My greatest personal challenge has been overcoming my deafness and proving that I can achieve my goals through hard work, determination, and never making excuses.
After I had minimally invasive Ponto surgery (MIPS) and got my first Ponto bone conduction hearing devices, I remember hearing the birds for the very first time. New to hearing and speaking, I worked tirelessly to ensure I was always prepared for class. I focused on becoming proficient in English. Over the years, I also taught myself Mandarin so that I could communicate with the exchange students my family hosted from China. I became regularly active in my high school and served as an advocate for the Deaf and hard of hearing (HoH) community. I also participated in various extracurricular activities. I achieved a 4.2 GPA, was a member of the National Honor Society and National Art Honor Society, played the oboe in my high school band, and ran varsity track and cross-country.
My interest in the Chinese language prompted me to pursue an undergraduate degree at RIT. This distinctive degree program pairs a proficiency in the Chinese language and culture with a technical or professional discipline, such as engineering, business, and health sciences. I take every opportunity both in and outside the classroom to immerse myself in language, culture, and traditions.
I was awarded the Critical Language Scholarship (CLS) in 2021 through the Department of State, where I studied Mandarin this past summer at the National Cheng Kung University (NCKU) in Taiwan. Due to Covid-19 restrictions, the program was taught virtually but allowed me the opportunity to travel to South Korea independently for an immersive experience and to learn about another culture. I was selected as a 2021 Boren Scholar to study Mandarin in Taiwan this upcoming fall 2022 for a semester. I have been accepted into National Cheng Kung University (NCKU) to advance my Chinese proficiency and study Business in Chinese.
Since getting my Ponto 5 Mini, I have had the opportunity to study abroad in a different environment constantly using Chinese, which is a difficult language to learn. It is a very tonal language that involves hearing different pitches and attention to detailed minor sound changes.
Using Ponto 5 Mini in a classroom environment
My college class schedule gives me the flexibility to study, work part-time, socialize, and rest in my free time. My class range in size from 14 to 200 students. Learning in a large setting with many students and one professor can make it challenging to hear because it is often noisy. During lecture sessions, I take advantage of RIT's services through the National Technical Institute for the Deaf (NTID) program, allowing me to have captioning, note-taking, and extended test time. In addition, I use Oticon Medical's advanced wireless technology, EduMic™, which allows me to hear my professor's voice directly through my Ponto 5 Mini.
After classes, I usually go to a study room on campus to do my work online. When I have Zoom meetings or video lectures, I use the ConnectClip™ that automatically syncs through Bluetooth® to my laptop. I love using my ConnectClip because it provides a clear, crisp sound that goes directly into my Ponto without an interim accessory and does not have to disturb anyone else in a quiet study room. I am grateful for Oticon Medical and RIT's services for helping Deaf or hard of hearing students, which have allowed me to reach my full potential and succeed in all my classes.
Social life made easier with Ponto
During my free time, I often get together with my friends, which is the best part of my college life experience. We usually go out for dinner and go on adventures creating quality memories that I will cherish for the rest of my life. When I am with my friends, in clubs, or attending any social events, struggling to communicate, or straining to hear what they say in a loud, crowded environment has not been an issue. My Ponto 5 Mini has a built-in setting that automatically reduces or softens background noise to help me listen to the person talking directly to me. The OpenSound Navigator™ feature creates a 360 degrees soundscape, allowing me to hear sounds coming from all around me.
Facing life's challenges
In life, there will always be challenges trying to knock you down. Although I am doing very well at RIT with my Ponto 5 Mini processors, there have been some personal and technical challenges. A few ignorant people who don't understand hearing loss have silently judged me for needing an American Sign Language (ASL) interpreter, talking slowly, or they assume that I might be stupid. To combat these personal challenges, I try not to let them affect me and continue to show everyone who I am and that I'm not afraid that I am different. Often, these ignorant people lack education and understanding that hearing loss does not affect an individual's other capabilities, or they are just narrow-minded and unwilling to accept differences.
I have also had some technical challenges, such as needing more batteries or a check-up for my Ponto 5 processors to ensure they continue functioning normally. The most fortunate part of RIT is that they have  a free, on-campus audiology center where I can make an appointment for any hearing-related issues. I am grateful to my school offers this, as most universities do not.
Becoming a hearing advocate for myself and others
Before coming to RIT, I used to be self-conscious because I didn't want to stand out from my hearing peers. I used to wear my hair over my devices and not let others see that I was wearing my Ponto processors. That all changed when I realized coming into college, most people were very welcoming and accepting of diversity and part of an inclusive community. At RIT, we have approximately 12,000 students with hearing loss creating a unique, mixed community between hearing and Deaf/HoH students interacting together. I am not afraid to explain to other students what my processor are and how they help me hear. Most of my friends, classmates, professors, and other faculty staff find it very interesting and are amazed to learn how I hear through vibration with my Ponto 5 Mini yet can live the life I want as a college student. I am proud of my identity, where I come from, and how I got to RIT, accomplishing all my endeavors.
I have always overcome any adversity that blocked my path to success. When challenges arise, I self-advocate by communicating with others to help them understand my situation and ask for the help I need instead of struggling. It took me a long time to learn to advocate for myself because, growing up from elementary to early high school, my mother always fought for me to ensure I had the right resources. But now, as a college student, I stand my ground to ensure I don't get taken advantage of due to my hearing loss. My mother is still my biggest supporter and is proud of me for overcoming my hardships though!
I am now excelling in college with a 3.58 GPA and currently participate in different clubs and sports activities. I was part of the RIT NCAA Division III Women's varsity cross-country and track; I am a member of Asian Cultural Society and Society for Asian Scientists and Engineers (SASE). During my college years, I have taken three part-time on-campus jobs as a Chinese note-taker for Deaf or HoH students, a virtual teacher's assistant in Chinese cultural research, and a Chinese tutor. I believe everyone has a voice and that their values matter despite their hearing loss or other challenges, and that like me, everyone deserves an equal chance of success.