Steffen upgraded from the Ponto™ 3 SuperPower to the new Ponto 5 SuperPower to treat his single-sided deafness recently. The following are his thoughts, which he kindly gave us permission to share.
#
I am still very happy with my Ponto SuperPower 5. It continues to remain superior to my old Ponto 3 SP. Notably, the ambient background sound is much more naturally quiet. The Ponto 3 SP had more background noises that made it obvious that I was wearing a hearing device. For the Ponto 5SP, I often have to double-check that it's even on if it's quiet in the room or outside. Happily, I'm just confirming that it's just really quiet in the room or outside vs. a dead battery, etc. On an especially windy day outside, I might switch to "Comfort" mode, but usually it's not really required.
I'm deaf in my right ear. In a busy, noisy setting, I tend to cock my left ear in the direction of the noise I'm  trying to hear but seem to be hearing just fine when walking with someone on my right side. There's always room for technology improvement in my mind. I'd even be interested in a hearing system that makes me hear better than someone with two good ears!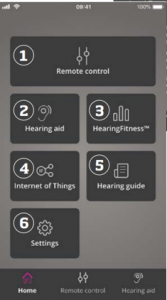 I really like utilizing my iPhone® with the Ponto 5 SP for work meetings and phone calls. I do not tend to use the accessory (Oticon ConnectClip™), which is designed to do something similar on my Android™ phone.  When I'm using the iPhone, I can't even tell if the sound is external or internal!
Cosmetically, I do like that the Ponto 5 SuperPower processor is smaller than the Ponto 3 SP. Not that big of a deal for me, but in the future, I would be interested in a Ponto that is even smaller and less noticeable out in public. If there is a way to develop one that is flush with my head and does not stick out as much, that would be nice as well. Bottom line is that I'm a very happy customer already but am open to even further improvements.
#
Are you ready to upgrade to our latest SuperPower technology? Find out how: Ponto 5 SuperPower Upgrade.