This month marks World Hearing Day (March 3). With that in mind, we are resharing this important article on the links between your hearing and your overall health!
Did you know? 
We exercise, drink water, and eat healthy to prevent any health issues down the road. Many of us have regular primary care appointments as preventative care. But what about your hearing health? How does hearing loss impact your overall health?
Nearly 27 million Americans ages 50 and older have hearing loss. Of those, only one in seven treat it. Those that do treat their hearing loss often wait an average of 10 years or more before meeting with a hearing healthcare processional. Unfortunately, this can have a lasting impact on your health.
A study from Johns Hopkins expert Frank Lin, M.D. Ph.D monitored nearly 700 adults for 12 years and found that people with moderate or severe hearing loss were at an increased risk for developing balance problems resulting in more frequent falls as well as a higher prevalence of memory loss. In addition to these findings, other research has confirmed that individuals with heart disease, kidney disease, and diabetes are more likely to also experience hearing loss as compared to their age matched peers.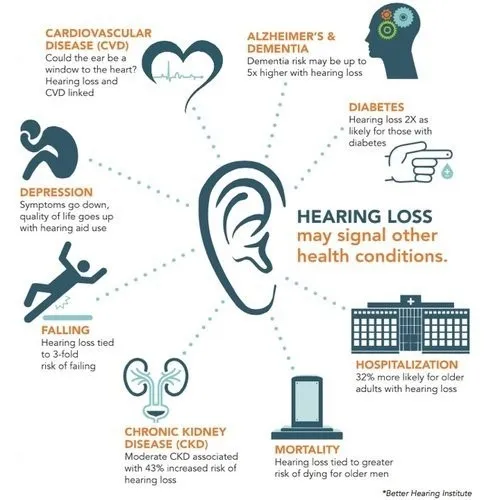 So, how does this impact your daily life?
If you are reading this post, you are likely very aware that hearing loss can have a significant impact on social interactions. You might find that you are asking others to repeat themselves. You may struggle to follow conversation with more than one person. Or you may find yourself thinking everyone else is mumbling. Whatever it is that you struggle with, the effects on social interactions can lead to self-isolation and ultimately depression and anxiety.
What can you do to prevent these effects?
One of the best ways to prevent these issues is to start with good hearing habits early in life. Just like we brush our teeth every day for good oral hygiene, we should protect our hearing when in loud environments. We should reduce exposure to medications that can cause hearing loss and we should have regular hearing exams with a hearing healthcare provider to monitor hearing over time. If hearing loss is detected, we should treat it quickly.
What if I already know I have hearing loss?
Now is a great time to start treating it! Do not hold back from choosing to do something about it. Schedule an appointment with your hearing healthcare provider and share a comprehensive medical history with them. Work with them to determine the best solution for you. If you do not yet have a provider, please use our Find a clinic tool. Or you can reach out to our team at 888.277.8014 (M-F 8am-8pm ET), and we would be glad to help find the right provider for you.
Any form of hearing loss can be challenging for the person experiencing it and for loved ones trying to communicate with them. It is our hope to help you hear your best because sound matters!
About the author‌
Alicia Wooten, Au.D. CCC-A is a Senior Auditory Technical Specialist at Oticon Medical. She specializes in implantable hearing devices and has a strong passion for aural rehabilitation and its impact on patient outcomes.
Citations
Hopkinsmedicine.org. 2022. The Hidden Risks of Hearing Loss. [online] Available at: <https://www.hopkinsmedicine.org/health/wellness-and-prevention/the-hidden-risks-of-hearing-loss> [Accessed 29 April 2022].